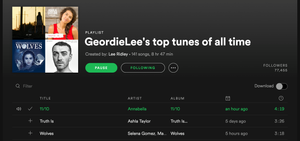 NOVEMBER 22, 2017 BY ARLIN CARTER RECORDS  
"annabella's" New single 11 out of 10 gets on a popular Spotify playlist with over 77 thousand followers.  11 out of 10 got top billing  on the playlist surpassing Selina Gomez's  Wolves and Sam Smith's To Good At Goodbyes.  
We are super excited about her new single and can't wait for the release of additional music by "annabella" in December 2017.